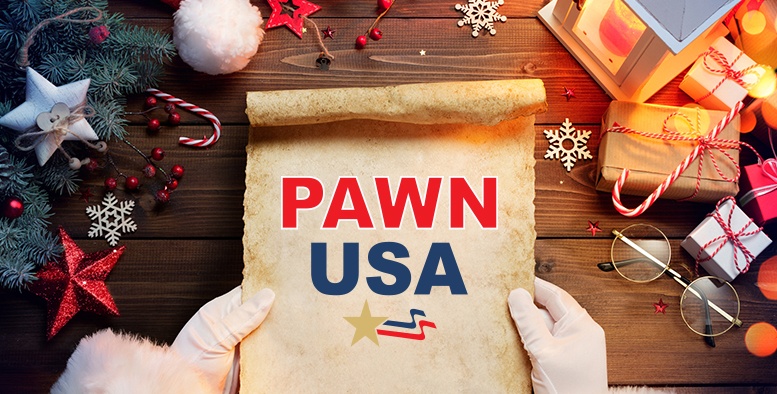 If you've managed to find the perfect, thoughtful gift for every person on your Christmas list, down to your neighbor's sister's dogwalker, this blog post is not for you. But if you, like us, are still trying to figure out where the second half of 2018 went, read on! Checking everything off that Christmas list doesn't require an entire day of running from store to store when everything you need is located in one place: your local pawn shop.

A pawn shop might not be the first place you associate with Christmas shopping, but trusted establishments like Pawn USA have a varied selection of items in good condition for reasonable prices. You can find the perfect present for your mother, dad, kids and sister, all under one roof! With all of the interesting things that end up on our shelves, we bet that you'll find everything you need and then some. If a trinket catches your eye, that's okay; with the great deals you've gotten on your Christmas presents, you'll probably have some cash left over to treat yourself!

After surveying our shelves, here are our recommendations for the most important people on your list.

Your mother who likes jewelry
Earrings make a great gift because, unlike other jewelry items, they don't have to be sized. As long as you know your mother's general taste in jewelry, you'll be able to pick out a pair of earrings she'll wear all the time. A lot of women have a preference for the type of setting — gold, silver or platinum — so peak into her jewelry box to ensure you select earrings that match the pieces she already has.

As far as the type of earring, diamond studs are a classic choice because they're comfortable to wear and they pair equally well with formal and casual outfits. Small, tasteful hoops are also a good option, because they're timeless and versatile. You can find a selection of both types of earrings at Pawn USA, because jewelry is one of the items we most frequently purchase.

Your dad who likes collecting
Does your father love rare items, or those that hold historical significance? There's no better place to find something like that than at a pawn shop. We're always purchasing vintage coins, trading cards, comic books, toys, and games, and since our staff is trained to recognize the value of these trinkets, you'll know the item is authentic. These retro collectables don't stay on our shelves for long, because some of our customers stop by every other day in search of such fascinating treasures. Come by any of our six locations and find a Christmas present that's truly one-of-a-kind.

Your son or daughter who likes gaming
If your child loves gaming, we've always got a good selection of games, consoles and accessories that you can wrap up and put under the tree. At a pawn shop, you'll usually find a great deal on pre-owned gaming essentials, but we believe the real gems on our shelves are the retro games. They might not utilize advanced technology or artificial intelligence, but there's a nostalgic kind of joy that comes with plugging in a PlayStation, X-Box or Atari. Why not share that with your son or daughter? Let them help you beat all the levels of Star Fox, defeat your enemies on Twisted Metal, or navigate the courses on Mario Kart.

Your sister who's learning to play music
Help your sister advance her musical skills by gifting her a beautiful musical instrument. We have a selection of instruments like violins, guitars, flutes, clarinets, saxophones and trumpets at different price points, so you'll be able to find an affordable option for the beginner musician on your list. For the more advanced musician who already has an instrument, we have accessories like cases, strings, picks and stands.

So stop by Pawn USA and knock out all your holiday shopping in one place. While everyone else is running around town to complete their Christmas lists, you'll be able to relax knowing you've got it done!